https://www.facebook.com/SilverFestRussianBlueCattery/ All the newest information from the life of the Cattery here!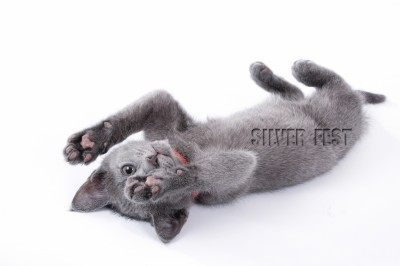 Kittens should be pleasure for you. Or you don't have to keep them at all. All kittens of our cattery are surrounded with care and love from the birth. If you are interested in our pets we are glad to answer any of your questions. We will help you with choice of new member of the family, advice and prompt how to provide kitten with proper care. Russian blue kitten will be grateful to you, sensitive and understanding friend, heal from all grief, get rid of loneliness.
Today it is possible to place the order for a kitten
Currently have kittens for sale. We accept preliminary reservations. Thus you need to send and e-mail to the address you find in Contacts in order to agree on the conditions.
Information on existence of kittens and their photo look in Russian-speaking option of a site on page «ХОТИТЕ КОТЕНКА?»
Kittens from our cattery have good character anf perfect health. They leave the cattery at the age of 3 months – fully vactinated from viruses and processed from parazites, as well as teached by their mother how to play, behave, where to scratch nails and keep themselves clean. All kittens have contract, all necessary vacinations, veterinary passport, recomendations on food and care, and pedigree. You will receive consultations and answers to any questions anytime the need arrives.
When our Basjona Sladkaja Penka has given birth for the first time to kittens, we with a daughter have understood that were ill «котёночной with illness», and the house without kittens will seem now to us uncomfortable.

We almost spent all free time sitting at its nest and observing of growth and development of kittens. And now, almost 10 years later, a miracle of a birth and process of a growing of kittens bring to us as much pleasures. Our kittens purr in 10-15 minutes after start to suck mum-cat. Pink soft heels; gentle warm tummies; the eyes greedy peering into world around; it is proud the sticking out carrots of tails shivering from excitation — it touches all and touches soul.

Each dung – not such, as previous. At each kitten – the character shown gradually and propensities. It is very interesting to these to observe of all. I very much like the period aged 3х weeks and nearby 3 – 3,5 months. In 3 weeks (sometimes-hardly earlier, sometimes-later) kittens start to do attempts вылазить of a native nest. They are outweighed too much stove benches and heart-rendingly peep from consciousness of own boldness and fear before surrounding big world. Curiosity, thirst of new sensations and impressions, life drive them outside. Approximately at the same age they very funny start to jump near at hand when them is as a frog, sharply upwards and forward, making a start all paws.

And at the age of 3-3, 5 months the sight, expression of eyes of kittens changes with careless-rassejanogo, children's on very attentive, understanding, «looking deep into». It seems, it has studied you already how you don't know yourself and reads your thoughts, expects your acts and actions.

Call or write to us!
phone +7 (902) 79 76 191
e-mail: redkina.el@yandex.ru