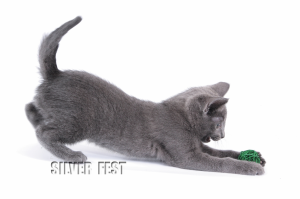 It is considered that the cats who have become then ancestors RUSSIAN BLUE, have been delivered to Great Britain by seamen from ports of Arkhangelsk approximately in 1860. The cat with dense wool of color of morning snow, tender character and a harmonious body has found at once to itself of admirers and admirers. Probably, therefore everyone wanted to name it by name the country: the Maltese, Spanish blue, American blue, Russian blue. For the first time at the cat's show it has been presented in 1895 to Great Britain. In 1939 the name RUSSIAN BLUE and then it has been allocated in a separate class has definitively been given this breed. Russian Blue – breed of mainly English selection.
Today Russian Blue – one of the most popular breeds in the countries of Europe, in America, in Japan and Australia. With rare exception, any game children's film where among heroes there are cats, doesn't do without participation of the representative of this breed. In our opinion, Simpson's cat – short-haired, dark gray with bright green eyes and a sharp muzzle – too Russian blue. Has very much pleased us presence of Russian blue cat at final film frames of «Ameli» (fr. Le Fabuleux Destin d'Amélie Poulain) the director Jean-Pierre Eugene. About Koko to Chanel Russian blue kitty decorates one of documentary films the presence. Kittens of our nursery became small heroes of a youth teleserial «Real boys».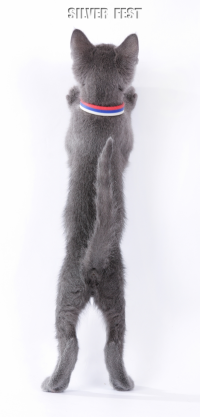 To tell about Russian Blue cat it is difficult enough. It fascinates, the attention but AS it it does and why the person will be captivated by it draws, to understand difficult. One friend of my daughter has at first sight fallen in love with our kitten — a kitty, but it (the person with a rich lexicon and generally able perfectly to formulate the thoughts) could put all delight only into words: «what cool cat!» Their sympathy has appeared mutual, and the cat lives now at it.
Not striking at first sight, Russian Blue cat on closer examination and even short dialogue with it will change your representation about it. At one cat breed isn't present such original, it is unique soft grace in movements. It in own way, especially goes, sits, moves in game, communicates with the person. And as regally it bears the tail! How many unforgettable minutes of a pacification and pleasure dialogue with it brings!
Russian Blue cat – breed with «the softest» pads. In game, in dialogue with the owner or children they don't let out claws, their touches are gentle and don't leave traces.
Russian Blue is a cat for experts. Elizabeth Konstantinovna Kulova spoke: «- Only the intelligent, creative person with artistic and thin nature can understand and estimate beauty and originality of Russian blue cat». But if it occurs, it becomes your small pleasure every day.
It is temperamental, very mobile, playful, tender and grateful. For good state of health many toys, places where it is possible to jump at different levels are necessary to it. They are patient, prompt both ruthless hunters and hunters behind everything that can be considered as game.
At each Russian Blue cat is, distinct from others, character, propensities, features of behavior, predilection. Each of them – bright individuality. Also those owners who can see, understand and estimate this dissimilarity of the pupil are happy.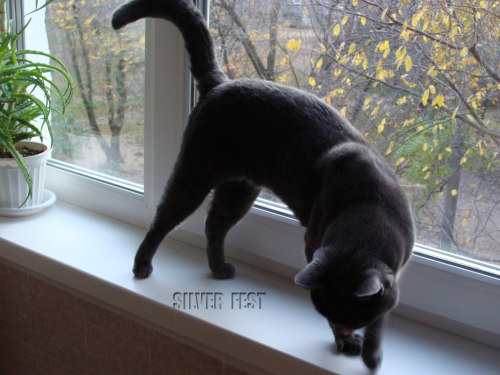 Russian Blue always aspire to be well informed about all event in the house. It either participants, or interested observers of all events. They are very clever, capricious and intelligent. They are tactful partners and companions. They are very grateful. For the received love, care and attention they render сторицей. They can lift your mood, distract from sad thoughts, entertain the game, jumps and amusing acts, the attention to you. I consider that Russian Blue cat in the house is the best medicine for stress. They are able to love and be favourite. They know how to give love and as with gratitude to accept it.
Russian Blue don't love noise, bright light and loud sounds, and can unambiguously show the discontent. Repairs in the house are transferred by them hard enough, it affects then change of behavior or is reflected on their health. As a rule, don't love strangers in the house (an exception visitors-children make), leave in a secluded place and hide there. But (on my supervision) perfectly find common language and amicably live in one house with dogs and other cats. Russian blue cat – it warmly and a cosiness of your house.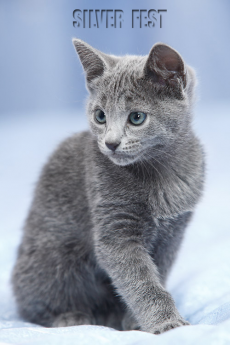 Russian Blue — a cat breed, possessing, certainly, ability to help the owners to recover from every possible illnesses. If to a cat or a cat it is comfortable in your house if they are healthy also all are happy – they generously share the health and good mood with you.
The maintenance Russian Blue in the house has some features. Constantly it is necessary to watch doors, especially entrance since the cat can slip out absolutely imperceptibly for you. Flexible and lightning, they dive and пролазят into the narrowest cracks with curiosity: «And what there where I wasn't present?». I think, an English saying:« Curiosity has ruined a cat »is about them. Owners of a cat should get used to watch where to go, because the kitten should run before or under your foot. Before beginning washing in the car, check up, whether there is no there, among the linen, a sleeping cat. Under special supervision there should be windows and window leaves to prevent«departure»of a cat behind a tree leaf, a birdie or a fly. The big danger to cats is represented by the windows slightly opened from above — double-glazed windows. If the crack above wide enough, a cat (any breed) by all means wants to jump in it. The result can be tragical. After all if at a cat the head there gets stuck, it can't release it...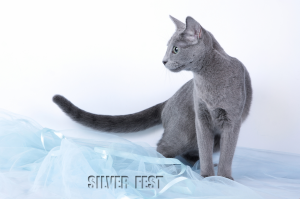 Russian Blue very much likes to behave in cleanliness. Daily it is thoroughly cleaned, puts in order the wool. In wool change in our house there is no wool from cats since all dropping out wool is pinched and then or leaves with excrements, or is belched.
Wool at Russian Blue too original – length of the main hair and an underfur is identical that gives effect of plush or a velvet. The tip of each hair-awn is deprived a pigment, decoloured, and wool shines and is poured by silver at each movement of a cat. At natural soft illumination it of really blue color with silver. Long stay changes coloring to the sun, wool gets a brown shade, loses blueness and light. The same effect is given by forages with the high maintenance of iodine and copper. To the touch a fur coat Russian blue silky and gentle.
Eyes at kittens blue, in the subsequent they change color on green (in more details about it it is told on a page «RECOLOUR of EYES»).
Russian Blue pleases owners with good health. They are subject to diseases less, than representatives of other breeds. Certainly, it doesn't mean that Russian blue can be contained in hunger and a cold (on one of cat – show to me have asked a question: «– and how they transfer frosts?») or to feed with meal from your table. That your pupil was healthy, it should receive quality forages, the schedule of preventive inoculations and other general rules of the maintenance and care of cats should be observed.

I hope, we have helped you to make representation about this remarkable breed. As a rule, people in which life there was a Russian blue cat, again get it...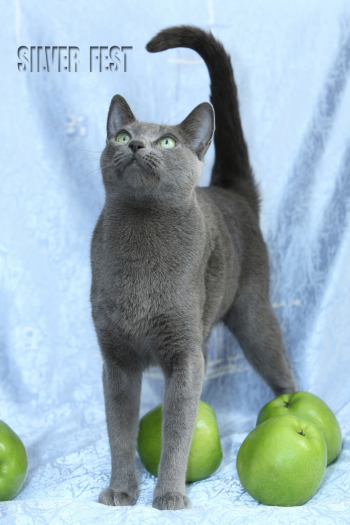 *The magic people in the germano-Scandinavian and Celtic folklore.